Zie je mij? Mijn relaxte tempo, mijn warrige gesprekken of mijn foute vrienden? Dit is waar ik nu ben, vanaf hier moet ik stapje voor stapje. Jouw wereld is ordelijk en logisch en theoretisch kloppend, maar voor mij een te grote stap. Wil je naast mij komen staan en vanaf mijn plek met mij de wereld benaderen? Ik ben niet onwillig, maar ik zeg je: Sluit mij niet uit!
Kringwijs en het Jeugdplatform Amsterdam hebben een advies geschreven aan iedereen die werkt met jongeren. In het advies staan vijf eenvoudige uitgangspunten waarmee hulp aan jongeren niet alleen beter aansluit, maar waarmee direct ook doelen van de transformatie worden behaald. De eigen kracht van jongeren wordt versterkt, het netwerk wordt betrokken en oplossingen komen meer vanuit de leefwereld.
Bij de uitgangspunten maakte illustrator Mensah van de Wal vijf tekeningen. Tijdens het vierjarig jubileum van het Jeugdplatform op 22 november 2018 werden kaarten met de uitgangspunten en illustratie uitgedeeld.
Nieuwsgierig naar het complete advies? Vraag een exemplaar aan via info@kringwijs.nl of info@jeugdplatformamsterdam.nl.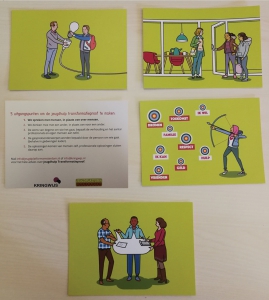 https://www.kringwijs.nl/wp-content/uploads/2018/11/idee.30.001-1.jpg
1860
2601
Kringwijs
https://kringwijs.nl/wp-content/uploads/2019/08/logo-kringwijs-transparant-site2-300x109.png
Kringwijs
2018-11-23 13:20:33
2019-09-24 13:43:40
Maak de jeugdhulp transformatieproof