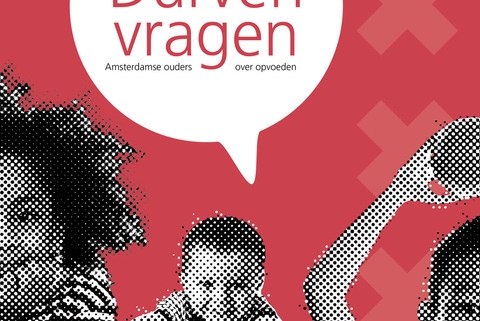 Durven vragen, Amsterdamse ouders over opvoeden
Onlangs verscheen het boek 'Durven vragen, Amsterdamse ouders over opvoeden'.
Hoe voeden andere ouders op? Wat doen vaders of moeders bij mij in de straat, buurt of stad? Welke keuzes maken ze en wie betrekken ze erbij? Hoe pakken mijn vrienden en familie het aan als er problemen met hun kinderen zijn? Zouden ze het gek vinden als ik hen om raad vraag? Het zijn vragen die ouders vooral bezighouden op momenten dat ze zelf ergens mee zitten. Toch vindt vrijwel iedereen het ingewikkeld om opvoedvragen en onzekerheden met anderen te bespreken. We doen het liever zelf, tenzij de zorgen echt groot worden. Dan durven we eerder over onze schaamte en angst heen te stappen.
Met een voorwoord van Simone Kukenheim, wethouder Amsterdam (Zorg, Jeugdzorg, Beroepsonderwijs en Sport).
Bestel een exemplaar bij de uitgever Uitgeverij Anderszins of in uw lokale boekhandel.
Fragment uit hoofdstuk 2: 'Wil je met me meedenken?' – om hulp of steun vragen (pdf)
https://www.kringwijs.nl/wp-content/uploads/2019/09/Anderszins-Durven-vragen-Cover-80x80-Website-HR.jpg
480
480
Jolanda Stellingwerff
https://kringwijs.nl/wp-content/uploads/2019/08/logo-kringwijs-transparant-site2-300x109.png
Jolanda Stellingwerff
2019-09-20 12:39:50
2019-11-25 14:03:31
Durven vragen, Amsterdamse ouders over opvoeden